More big companies are investing in treating data as a core strategic asset, and they're increasingly hiring Chief Data Officers (CDO) to help them do a better job. The percentage of corporate CDOs rose from 1 percent in 2005 to 13 percent in 2013. The dynamic and dramatic move toward a hyper-personalized society during those years made it clear to social media companies and other big tech vendors that there was an opportunity to create value with customer data.
That's according to C.J, Nakamura, the global head of the Enterprise Information Management organization at IBM's global chief data office. Speaking at the DATAVERSITY® Enterprise Data World Conference during his presentation "Here Comes the Messiah – the CDO!" Nakamura laid out the many responsibilities CDOs have today, the multitude of issues they must deal with, and how the role will evolve.
CDO Responsibilities
There are five functions of the Chief Data Officer role, as Nakamura explained it. And in some way or another, they are all related to reducing cycle times, building process efficiencies, boosting top-line growth revenues, and ensuring regulatory compliance:
Enterprise Data Strategy: When a CDO understands what the business's core vision and mission is, he or she can develop a business model suited to that. It's all about marrying the enterprise data strategy to the enterprise business strategy. "It's a simple task to go to the CFO and ask about corporate strategy objectives and metrics," Nakamura said. Given that executive bonuses are tied to achieving corporate strategy objectives, they should be happy to engage on that front. "There's something in it for these guys," he said.
Data Governance and Management: A CDO should get a foothold on how to govern and measure critical data assets – what business standards, processes, and policies will this revolve around? Data Management should drive Data Quality frameworks through support of Metadata Management. If you don't have an enterprise data catalog now, make putting one in place a priority, Nakamura said. Otherwise, the business will still be dealing with multiple data definitions from multiple business units applying different technologies to code and categorizing them, rather than having one searchable business glossary of common data definitions. "You have to build a data catalog," he said.
Data Analytics: "Data analytics is an offensive backbone for data monetization." Focus on deploying analytical tools and services and on leveraging skill sets across the organization "to turn data into dollars."
Data Architecture: According to Nakamura, it's a good idea to look into the ingestion of streaming data into data lakes and curating to improve running analytics for use cases.
Data Culture: It's imperative to build deep data and analytics partnerships with the business so that data starts to be treated like a key asset. This work requires evangelizing the business to drive data culture forward and keeping the best "data talent" satisfied. "A large part of the CDO job that can be easily forgotten is that you have to develop and scale your talent – coach and nurture the best-of-breed in your team before they go and look for another job," he said. "Data scientists should be able to play with cool tools and build services for the business and be able to tangibly measure ROI."
Nakamura noted that research statistics show that 77 percent of the thousand CDOs across the globe are tasked with data strategy, governance, and management. Close to 50 percent also have responsibility to build up the Data Architecture.
CDO Challenges
Every business role comes with its own challenges. When it comes to the CDO, challenges include dealing with internal politics, budgets, and more:
Relationships: Who reports to whom, how, and whether responsibilities are well-defined or not can all complicate matters for the CDO. In some companies, for example, the functions that a chief analytics officer might undertake fall under the CDO's umbrella, which can make things easier. But that isn't always the case. These individuals should be "partners in crime," so to speak, and that relationship has to be worked out over time. Often the CDO reports to the CIO, too, and that hasn't always been a healthy relationship, either. But, said Nakamura, "the hostile relationship that existed between the two is emerging positively in many places." That is helping to decrease political skirmishes that last too long, hurting the organization and lowering momentum for the efforts the CDO is trying to undertake.
Funding: In some organizations CDOs have their own budgets and the freedom and responsibilities that go with that. But sometimes they don't. The fact that CIOs often hold these reigns has hurt, but fortunately, the increasingly better relationship between CIOs and CDOs will work to the CDO's advantage. When CIOs won't loosen the reigns, CDOs should understand that speaks to the CIO's maturity – or lack of it, Nakamura said. "If you do have funding challenges, borrow and steal the resources you need."
Metrics: A CDO doesn't need to exhaust data teams with numerous metrics and measurements, but they should try to make sure that those they implement are ones "that you can tie to the most high-profile project in the organization," Nakamura said. Proving those use cases "has the most weight with executives."
Recruiting: "This is hard," he said, but it's necessary. And the sooner you get started on it, the better. "Building a high-performance team doesn't happen overnight."
Scope creep: Once the CDO's role and office is better established, watch out for scope creep. "People will realize you can make money out of data, so more and more of them will knock on your door with their bag of problems," Nakamura warned. Be ready to synthesize them with the business mission and prioritize accordingly.
CDOs: Where They Come from and What Their Future is
CDO backgrounds are varied. They don't have to come from the IT shop. In fact, citing Gartner research, Nakamura pointed out that only about 9 percent do. More have a background in data warehousing, Data Governance, and Business Intelligence. "They know the data, and may be hands-on with it, like mashing data models, visualizations, or building algorithms," he said. Finance, operations, or sales and marketing execs are also more likely to move into the role.
Whatever the case, he explained, they must understand technology. The must have key strategic leadership qualifications, perhaps gained by having been a CIO or CFO with a clear strategic business vision of how to make data make money. They need a clear execution strategy to reach short-term and long-term goals. They must be business-process centered – before taking on any new project, they should send out end-to-end teams (from data scientists to scrum-masters) so that all capabilities for the process to build a service are understood.
He broke down how CDO roles are shifting, too, from CDO V1 to V2 to V3. In the earlier stages, CDOs tended to focus largely on governance and analytics, but now it really is about data monetization. That means building an evidence-based culture and getting all people in the company to recognize data not just as something they need to work with but as something "cool" and "sexy."
How? He noted that one prominent CDO, for example, has brought in visualization experts from chic consumer retail brands to design front-end web interfaces that attract the whole audience of the organization.
Nakamura concluded his presentation by noting that the outlook for the CDO function continues to be bright. Gartner has said that 90 percent of Fortune 500 companies will adopt the CDO role by the end of next year.
Check out Enterprise Data World at www.enterprisedataworld.com
Here is the video of the Enterprise Data World Presentation: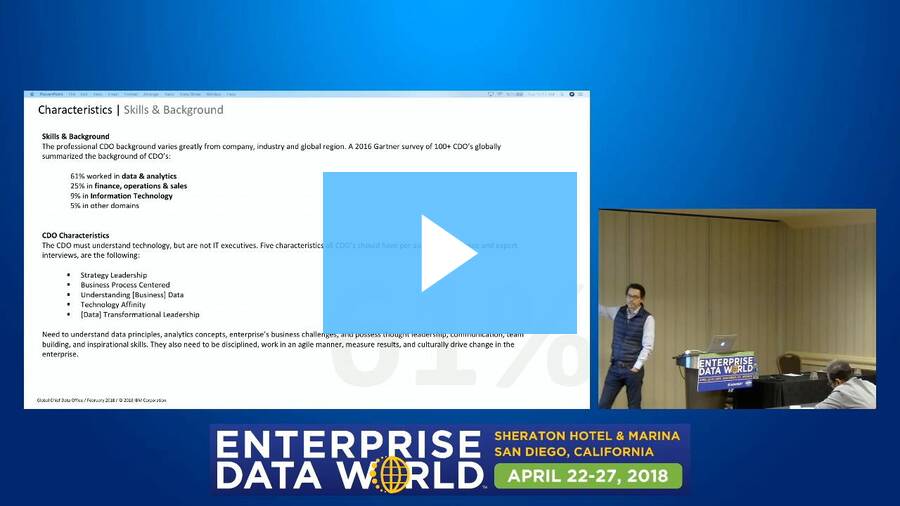 Image used under license from Shutterstock.com