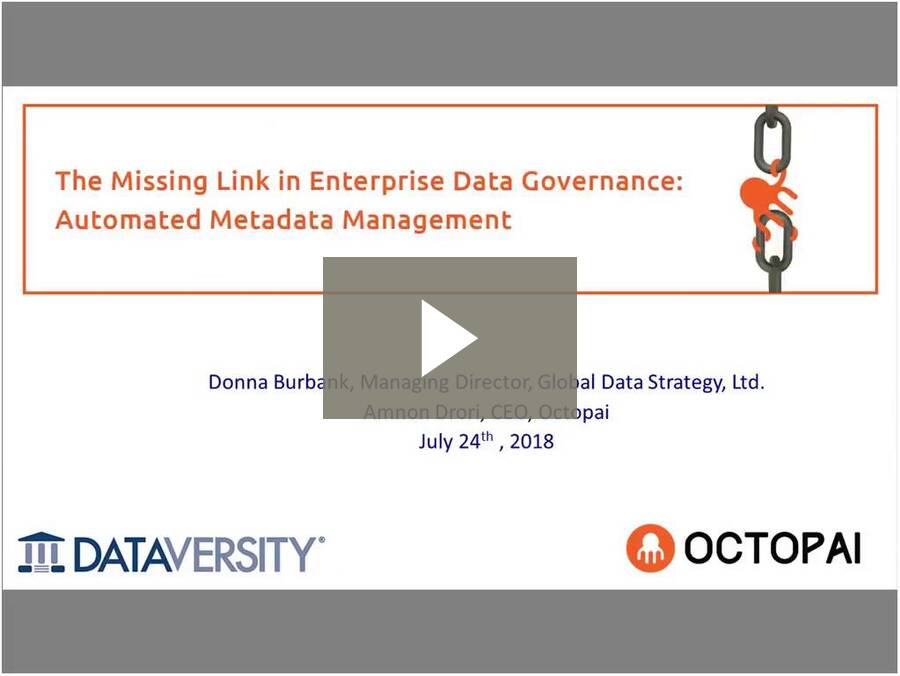 To view just the slides from this presentation, click HERE>>
This webinar was sponsored by:
About the Webinar
So many companies and organizations are in the same boat. They're drowning in their data — so much data, from so many different sources. They understand that data governance is hugely important for them to be able to know their data inside and out and comply with regulations. What many companies have not yet come to terms with when implementing their data governance strategy and supporting tools, is the criticality of metadata in the process. As the 'data about data,' metadata provides the value and purpose of the data content, thereby becoming an extremely effective tool for quickly locating information – a must for BI groups dealing with analytics and business user reporting.
Octopai's CEO, Amnon Drori will discuss this critical missing link in enterprise data governance and the impact of automating metadata management for data discovery and data lineage for BI. He'll demonstrate how BI groups use Octopai to not only locate their data instantly, but to quickly and accurately visualize and understand the entire data journey to enable the business to move forward.
About the Speaker
Amnon Drori
CEO and Co-Founder, Octopai
Amnon has over 20 years of leadership experience in technology companies. Before co-founding Octopai he led sales efforts at companies like Panaya, Zend Technologies, ModusNovo and Alvarion, and also served as the Chief Revenue Officer at CoolaData, a big data behavioral analytics platform. Amnon studied Management and Computer Science at the Open University of Tel Aviv.
https://www.linkedin.com/in/amnon-drori-b0286b1/?trk=hp-identity-name
About the Analyst
Donna Burbank
Managing Director, Global Data Strategy, Ltd
Donna Burbank is a recognized industry expert in information management with over 20 years of experience helping organizations enrich their business opportunities through data and information.  She currently is the Managing Director of Global Data Strategy Ltd, where she assists organizations around the globe in driving value from their data.  She has worked with dozens of Fortune 500 companies worldwide in the Americas, Europe, Asia, and Africa and speaks regularly at industry conferences.  She has co-authored several books on data management and is a regular contributor to industry publications. She can be reached at donna.burbank@globaldatastrategy.com and you can follow her on Twitter @donnaburbank.